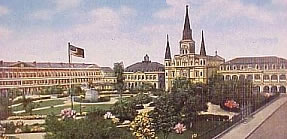 old photo of Jackson Square - it still looks like this!
The French Quarter Festival One of the best preserved historical neighborhoods in America, the French Quarter has such a strong and lasting Spanish and French influence that you may really feel like you're visiting a foreign country. Occupying the same six by thirteen block area laid out in 1722, it's the only intact French Colonial and Spanish settlement remaining in the United State Laissez les bon temps rouler or Let the good times roll — is exemplified by Bourbon Street's almost 24 hour party atmosphere. Bourbon Street in the French Quarter is the best known party street in New Orleans.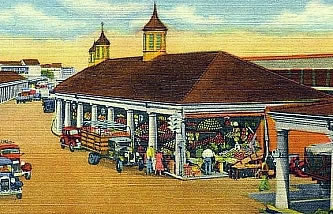 The French Market - It still looks like this!

Bourbon Street is lined with bars, jazz clubs, hotels, restaurants, "gentlemen's clubs" and boutiques. All types of restaurants can be found in the French Quarter, Creole, Cajun, Mexican, Asian, etc. New Orleans is one of the great art markets of the world and many tourist enjoy visiting the art galleries and museums in the French Quarter.
LINKS TO OTHER FRENCH QUARTER INFO:

National Historical Park French Quarter Visitor Center

New Orleans/French Quarter

Old French Market

Historic New Orleans Collection

Hermann-Grima House